Animals, Homeless/Low-Income/Margenalized, Disabled, Food Insecure/Hungry, Seniors, Families
Age Minimum (with Adult): 14+, Minimum Age:18+
Fuzzy Friends Pet Food Pantry Cookout Fundraiser
We are having cookout to raise money for St Anne's Episcopal Church Ministry "Fuzzy Friends Pet Food Pantry". If you can help please call us at 3367604319
History about Fuzzy Friends,
About Our Pet Food Pantry​Fuzzy Friends Pet Food Pantry is a Ministry of St Anne's Episcopal Church for low income, veterans, retired people over the age of 70 who cannot afford dog or cat food.In 2008, the Church was helping raise money and donations for the local rescue centers. While John, the founder, was working at the Forsyth County Animal shelter, he learned that people with low incomes typically surrender their animals when they cannot afford to feed them. Unfortunately, their pets are surrendered to the animal shelter where many end up being euthanized. He had an idea and in 2008 he led a committee at St Anne's to explore how to help these animals. In 2017 with the help of St Anne's Episcopal Church the Fuzzy Friends Pet Food Pantry was started as a new ministry. The idea was "help prevent people from having to surrender their pets because they could not afford to feed them" and to date Fuzzy Friends Pet Food Pantry has helped feed thousands of pets. It is also the largest pet food pantry in a church in North Carolina.Eligibility for Pantry Fuzzy Friend Pet Food Pantry, as a Ministry of St Anne's Episcopal Church only offers pet food assistance to help clients in economic need. We are not a human food pantry. Fuzzy Friends is a free program for eligible pet owners who cannot afford dog and cat food. The requirements for applicants are that they bring ID, proof of current address and proof of needing assistance (such as Medicaid, Food Stamps or WIC) .Hours of OperationThe pantry is open to serve clients the 1st and the 4th Saturday of each month, from 10:00 AM-12:30 PM and also the 2nd & 3rd Friday, from 10:30 AM-12:00 PM.
FUZZY FRIENDS PET FOOD PANTRY IS A MINISTRYOF ST ANNE'S EPISCOPAL CHURCH AND IT IS NOT SEPARATE ENTITY. IT HAS THE SAME 501 3-C NUMBER AS THE CHURCH. All donations should be made to St. Anne's Episcopal Church to be tax deductible. Designate Fuzzy Friends Pet PantryJUST A REMINDER WE OUR CLOSED ON ALL HOLIDAYS & FUNERALS AT THE CHURCH & IF THERE IS ICE OR SNOW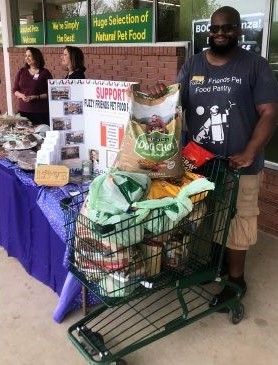 Thank you for help us "Take care of all GOD's
creature on meal at a time" by John
Please wait...
Login or Register
In order to register for this opportunity you must login to an existing account or register to create a new account.
Signup with team
This link allows you to participate in this opportunity with a team. When you click on the link you will have the option to:
Choose an existing team you're already a member or captain of, or
Create a new team to sign up.
Signup Questions
Please respond to the following questions in order to signup for this opportunity:
Please wait...
E-mail